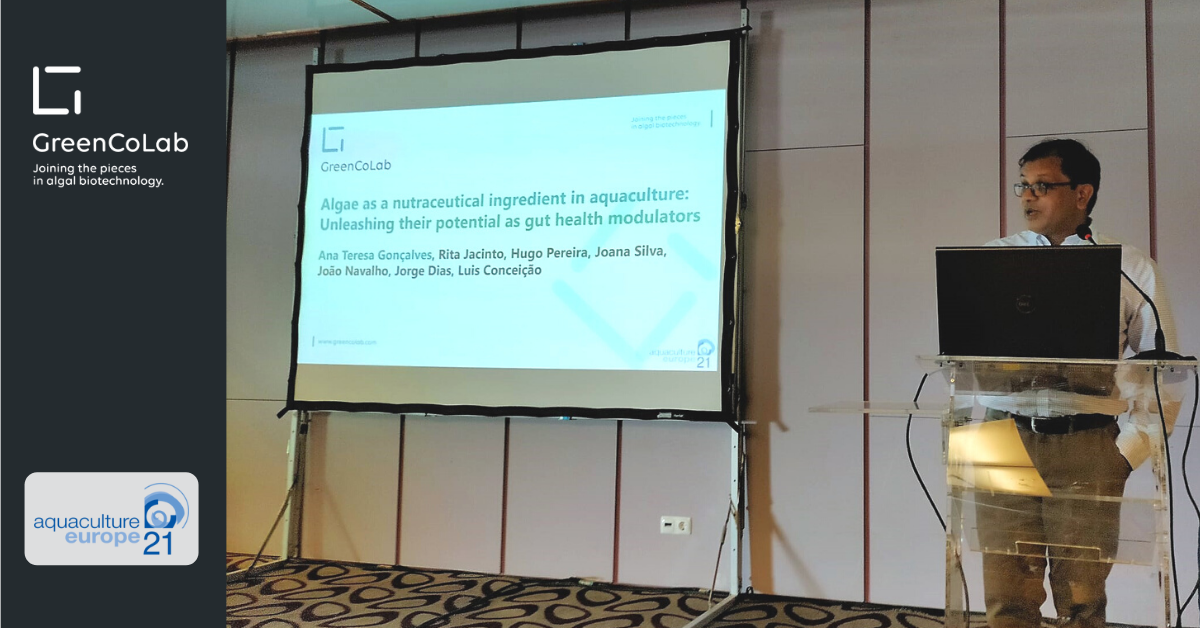 GreenColab

attended at the

Aquaculture Europe 2021

, held in Funchal (Madeira), from 4th to 7th October, presenting developments in the area of

"Micro/Macro Algae", "Microbiome" and "Hatchery Technologies"

.
Session: MICRO / MACRO ALGAE
Authors: Ana Teresa Gonçalves, Rita Jacinto, Hugo Pereira, Helena Abreu, Joana Silva, João Navalho, Jorge Dias, Luis Conceição
Title: ALGAE AS A NUTRACEUTICAL INGREDIENT IN AQUACULTURE: UNLEASHING THEIR POTENTIAL AS GUT HEALTH MODULATORS
Access: https://aquaeas.org/Program/PaperDetail/39055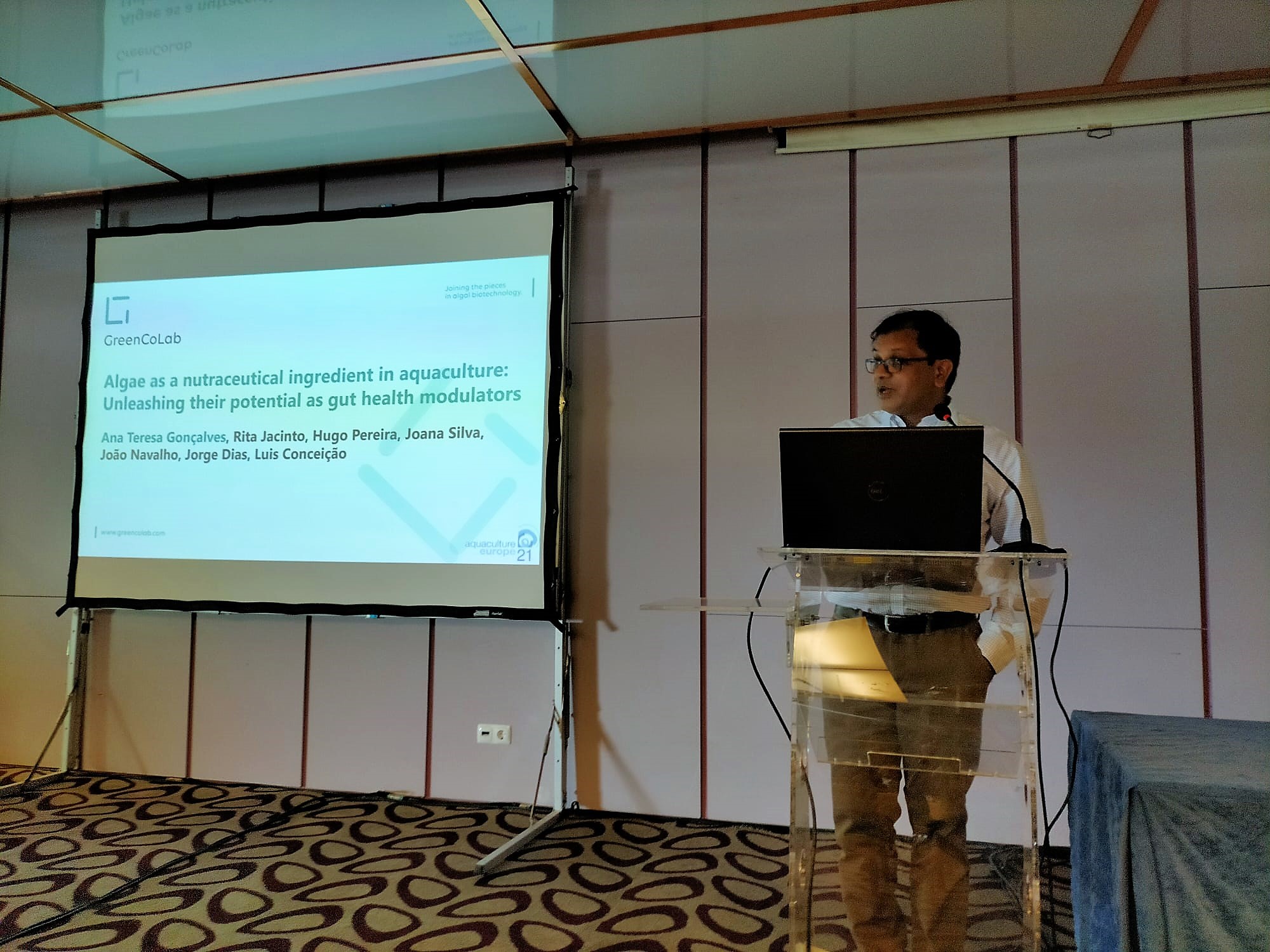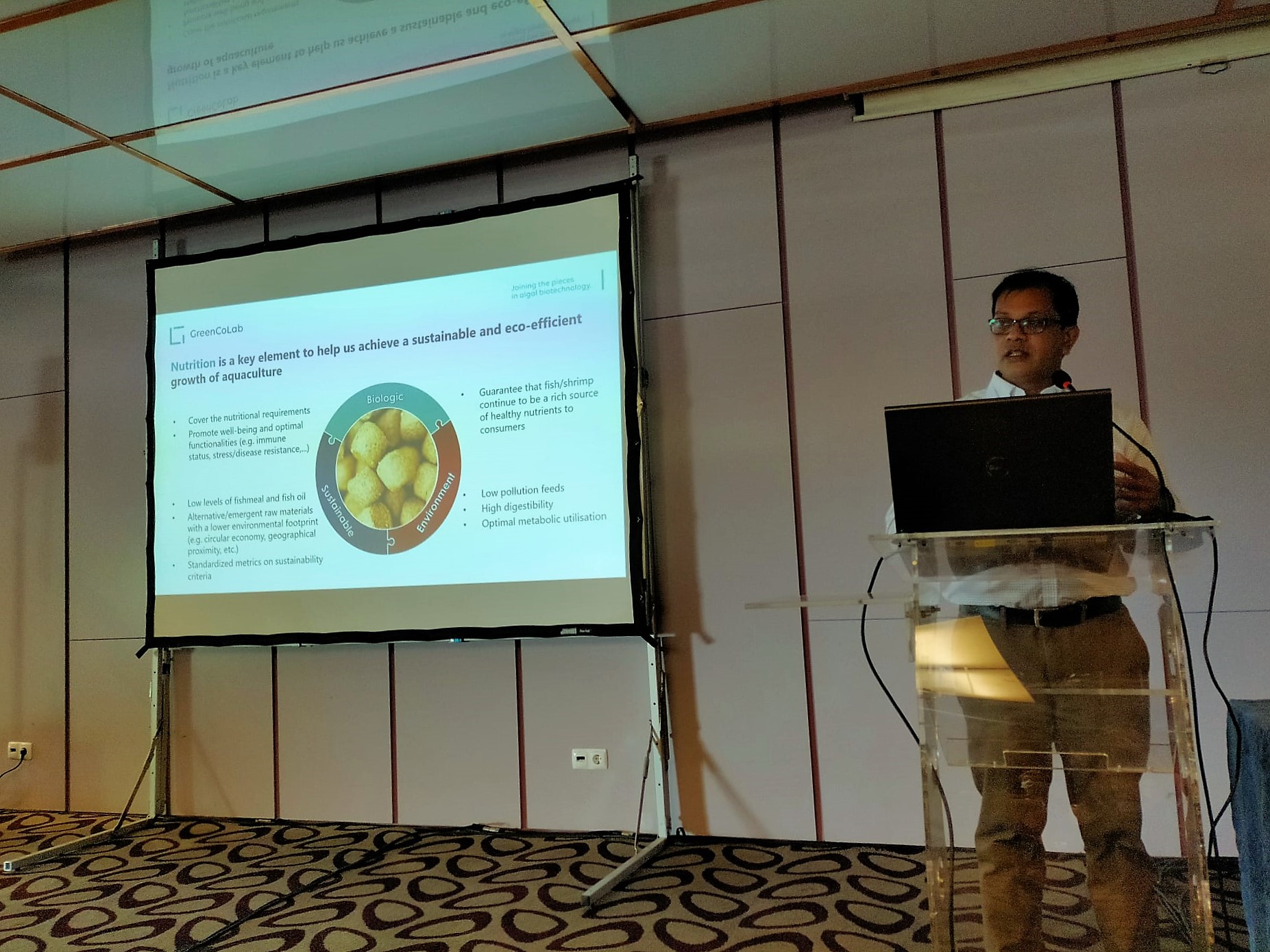 On the 5th of October, Jorge Dias presented this GreenCoLab work as part of a subproject developed at GreenCoLab that aims the evaluation of algae as functional ingredient for aquaculture species, and here, Jorge Dias presented the latest results regarding the transcriptional response of an intestinal ex-vivo model to several micro- and macroalgae biomasses.
Results highlighted the potential of several algae as immunostimulants, but most interestingly, as intestine epithelium permeability modulators, a very important feature for gut health and homeostasis and consequently fish health management.
Session: HATCHERY TECHNOLOGIES
Authors: Ana Teresa Gonçalves, Wilson Pinto, Diogo Peixoto, Daniel Afonso, Benjamin Costas, Maria Morais, Helena Abreu, Joana Silva, João Navalho, Ana Mendes, Sara Castanho, Cátia Marques, Rita Colen, Pedro Pousão-Ferreira, Sofia Engrola, Jorge Dias, Luis Conceição
Title: IMMUNOMODULATION OF SENEGALESE SOLE Solea senegalensis POST-LARVAE BY ALGAE BLENDS AS FUNCTIONAL INGREDIENTS IN MICRODIETS
Access: https://aquaeas.org/Program/PaperDetail/39025
Session: MICROBIOME
Authors: Ana Teresa Gonçalves, Marco Simões, Ricardo Passos, Pedro Pires, Damiana Pires, Beatriz do Carmo, Teresa Baptista
Title: EUROPEAN SEABASS Dicentrarchus labrax GUT MICROBIOTA MODULATION BY DIETS WITH Gracilaria gracilis BIOMASS INCLUSION
Access: https://aquaeas.org/Program/PaperDetail/38996
Session: MICROBIOME
Authors: Ana Teresa Gonçalves, Ana Basto, Mariana Ferreira, Luísa Valente
Title: EUROPEAN SEABASS Dicentrarchus labrax GUT MICROBIOTA MODULATION BY DIETS WITH DEFATTED Tenebrio molitor LARVAE MEAL AS MAIN PROTEIN SOURCE
Access: https://aquaeas.org/PosterViewer/Home/Index/214243